Halloween
Christian Stories For the Halloween Season
No Fear Here!
A Christian Halloween – Brought To You By Matney Woodard
Unless you live a very sheltered life, it is almost impossible to avoid being influenced by the Halloween season. It has become one of the biggest holidays for retailers, and a huge money maker for Hollywood. Scary movies, witchcraft, demonic activity, the occult are all being promoted by the media, entertainment and pop culture. All of these in some way introduce fear into people's lives. Whether its fear of injury, the dark, monsters, demons, Hell or even death, that fear can undermine faith. And as we see in the life of Job, fear can remove God's hedge of protection around a Believer.
In the past, Christian leaders have simply refused to even acknowledge the existence of Halloween, or held Fall Festivals as an alternative celebration to Halloween, and attempted to remove any evil influences. This may do some good. But its hard to shelter children from everything.
My parents took a different approach. They acknowledged Halloween, but made it clear that I had nothing to fear. When Jesus ascended to Heaven, he had defeated the devil. (Colossians 2:15) The only weapons Satan has now is deception and fear. You can enforce his defeat in your life by refusing to fear and ignoring his lies. You have Power of Attorney to use the name of Jesus to overcome everything that has a name. (Philippians 2:9-10)
Fear is the opposite of faith. Think about how many times the phrase, "Fear not!" appears in the Bible. When you trust God to take care of you, there is absolutely no reason to be afraid. How can you be afraid when you know that the Creator of the universe has your back? How can you buckle under pressure when the Holy Spirit is inside of you? When you know that God's Angels, His Ministering Spirits, are working night and day to protect you, why worry? With God's Word, His wisdom, which is loaded with promises and examples of faith in action to inspire you, why should fear ever be an issue?
The root of ALL fear is doubt or unbelief in God. It is your faith that pleases God. In Revelation 21:8, the fearful and unbelieving are listed with the murderers and sexually immoral who experience the second death. You do not want any part of unbelief or fear.
The following content has been selected for the Halloween season. Use the following stories and content to build your faith and refuse to let fear take root in your life, or in the life of any children in your circle of influence.
Have a Happy Halloween, but FEAR NOT!!!
Boris Kitty Stories – Boris is not your typical cat. He loves God. He learns that with prayer and faith in God, he can overcome all challenges.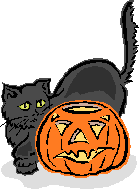 These stories are perfect for the Halloween season.
Black Cats Aren't Scary – Halloween is a holiday that many people view as harmless fun. But Boris learns that it also promotes prejudice and hatred of black cats. Determined to do something about it, God tells him the secret to defeating hate.
For author commentary on this story, click here.
The Terribly Scary Storm – Fear is a tool of Satan. It robs believers of their faith in God. It is also a sin that needs to be defeated. Boris learns a valuable lesson about fear when he faces a scary spring thunderstorm. With God's help, he is always victorious.
Devil Got Your Tongue – Throughout the Bible we are taught to speak in agreement with God's Word. In this story, Boris learns that when he talks of failure and defeat, he will get exactly that. But when he speaks in agreement with God's Word, there is nothing he can't do.
Forgiven And Forgotten – Montana is afraid that God will never forgive him for all the bad things he has done. But when God forgives, his mistakes are forgiven and forgotten.
Animal Parable Bible Stories – Throughout the Bible from Genesis to Revelation, animals play an important role in God's plan. The purpose of the Animal Parable Bible Stories is to provide a new perspective for your favorite Bible stories. Read these stories and see faith overcome all danger. Be sure and check out the Animal Parable Bible Lesson for each story.
Tasha, The Catch Of The Day – This Animal Parable is based on the Gospel account of Peter catching a fish with a coin in its mouth. God tells Tasha to retrieve a coin for Peter and Jesus, and not be afraid of being caught.
Tasha, The Catch Of The Day – Animal Parable Bible Lesson – A Parable About Faithfully Serving God
Kirsi, The Little Lost Lamb – This Christmas story is about a lamb who desperately wanted to see baby Jesus. Facing friend and foe, she makes her way to Bethlehem and discovers that finally seeing Jesus was well worth the journey.
Kirsi, The Little Lost Lamb – Animal Parable Bible Lesson – A Parable About Searching For Christ
Animal Parables – Job 12:7 tells us to ask the animals and they will teach us. That is the purpose of all the Animal Parables and Animal Parable Bible Stories. Every story features new characters and new inspirational lessons. Here are a couple of Animal Parables about faith conquering fear and danger.
Duarte, The Good Shepherd – Duarte was the only llama on his farm. The sheep avoided him and he was left alone wondering why he was even there. But with God's help, he learns how important he really is when he saves a young lamb from a hungry wolf.
The Three Doves – When three doves, Ashley, Jacey and Tilly, are attacked by a hungry hawk, they are reminded that the name of Jesus is above all names. When you place your faith in Jesus, you experience God's goodness in every area of your life.
Check out all the Animal Parables!!
Bible Stories – Here are a few Bible stories for the Halloween season.
David and Goliath & Some Giant-slaying Faith – A young shepherd boy faces a 10-foot tall warrior and proves to his countrymen that God was still willing to fight on the side of those that put their complete trust in Him. A Bible story from 1 Samuel.
Jumpin' Jehoshaphat – Praise Works! – When 3 armies invade Judah, King Jehoshaphat knew that God would protect his country. He marched the army out to face the enemy led by a choir singing praises to God. But there would be no battle that day. God had already given them the victory! A Bible story from 2 Chronicles 20:1-30.
Shadrach, Meshach and Abednego & The Fiery Furnace – Three young men refuse to sin, and by doing so, defy the most powerful ruler in the world, a crime worthy of a fiery death. When they put their trust in God, there is nothing to fear. A Bible story from Daniel 3:1-30.
Other Random Stuff

Heaven's Art Gallery – An original Christian short story about transforming life into a masterpiece worthy of display in Heaven's Art Gallery.
Stand Firm – This Christian poem by Harrison Woodard encourages Believers to Stand Firm and know that God will deliver them.
Have A Happy (And Fearless) Halloween!
Search for Other Christian Web Sites.