The Perfect Home
Story By
Harrison Woodard
Illustrations By
Donna Rosin
What do you do when bad things happen? Do you worry, or are you confident that God can take any difficult situation and use it for good? In this story, Boris learns that he may have to go back to the shelter. He doesn't realize that God is at work preparing a perfect home just for him. A Christian children's story for kids of all ages.
For I know the plans I have for you," declares the LORD, "plans to prosper you and not to harm you, plans to give you hope and a future. — Jeremiah 29:11 NIV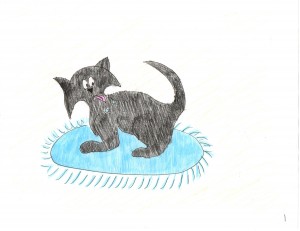 Boris rolled over and stretched. "That was the best nap ever," he said.
Boris gave himself a bath. Starting from his back legs, he cleaned every inch of his fur, even behind his ears.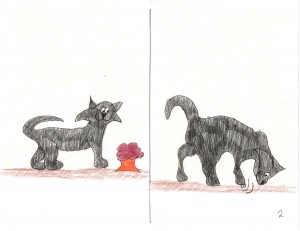 He went to the kitchen and inspected his food. He wasn't really hungry. He just wanted to make sure his bowl was full. He scratched the floor to mark his territory. Even though he was the only cat in the apartment, he wanted to make sure other cats knew that this was his food.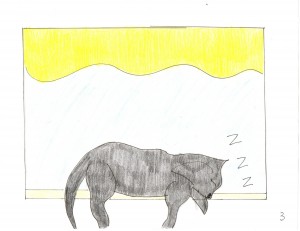 Boris lay down on the windowsill in the warm sun. He was happy to have a home. He looked out the window. Amanda would be home soon, and it was already time for his afternoon nap.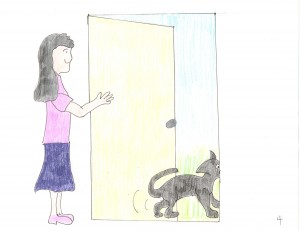 Amanda returned from work. As always, she opened the backdoor and Boris ran outside to play. After a few hours, it was time to come home.
"Boris, its time to come inside," shouted Amanda.
Boris scampered down the sidewalk, under the patio fence, and into the apartment.
"Good boy," said Amanda as she closed the door behind him. "It's almost bedtime."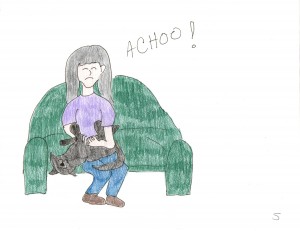 Amanda sat down on the couch to read and Boris curled up on her lap. He rolled over on his back to make it easier for Amanda to stroke his tummy. As he lay there, Amanda started sneezing and her eyes were red.
"What's wrong?" he wondered.
"Boris, I don't know if you can stay here," sniffled Amanda. "I get so sick when I am around you. I must be allergic to cats."
Boris didn't know what allergic meant, but it couldn't be good. He jumped down and sat down across the room.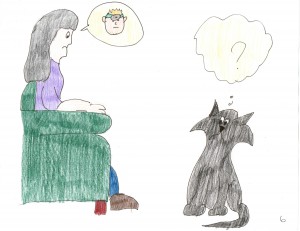 "I'll go to the doctor and see if I can get better, but if that doesn't work, I'll have to find you a new home," said Amanda.
"Will I have to go back to the shelter?" Boris wondered.
Several days later, Boris was napping in the bedroom when the doorbell rang. He jumped up and ran into the living room just as Amanda opened the door.
"Hi Pam," said Amanda with a hug.
Pam was Amanda's sister. Boris really liked her. She was definitely a cat person.
"How are you?" asked Pam.
"I'm good," said Amanda. "Except for my allergies."
"Did the doctor help?" asked Pam.
"A little, but I have to find a new home for Boris," said Amanda sadly.
Pam leaned down to pet Boris who was rubbing against her leg.
"How could this precious little thing cause you any trouble?" asked Pam.
Boris agreed. He was precious and no trouble at all.
"I may have to return him to the S – H – E – L – T – E – R," said Amanda.
Boris wasn't very good at spelling, but he was pretty sure that meant shelter, and he didn't want any part of that.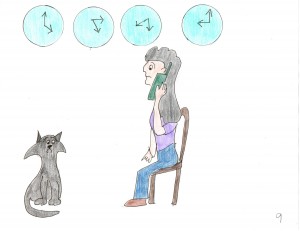 The next day, Amanda spent the entire day on the phone. She called everyone she knew, but nobody wanted Boris.
"Boris, what are we going to do?" asked Amanda.
Boris was very sad. He didn't want to go back to the shelter. He prayed for a home and God had sent Amanda. Why would God give him a home only to send him back? He was very confused.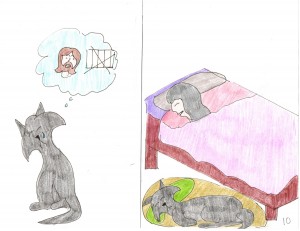 Boris tried to sleep, but he just couldn't. He was so worried.
He jumped off the bed and bowed his head to pray.
"Dear God, I don't understand, I don't want to go back to the shelter, and I don't want Amanda sick. Please look after both of us."
Confident that God was in control, Boris fell asleep next to Amanda.
The next day, Pam came to visit.
"Have you found Boris a home?" asked Pam.
"No," said Amanda. " I have asked everyone at work and called all my friends. Nobody wants a cat."
"What about your neighbors?" asked Pam.
"They already have two," said Amanda. "What about you and Chris?"
"I would love it, but Chris said no," said Pam. "I don't think he's a cat person."
"I just don't know what to do," said Amanda as she started to cry. "I guess I'll take him back tomorrow. Will you go with me?"
"I will," said Pam.
Pam gave Amanda a hug and left.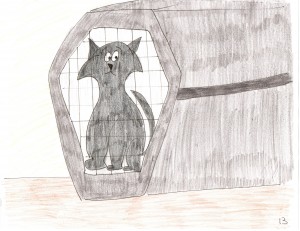 The next morning Amanda was already out of bed when Boris got up. He trotted into the kitchen to check his bowl, but it was gone. He went to his litter box, but it was missing as well. Boris knew something was up.
"Let's go Boris," said Amanda as she pointed to his pet carrier.
Next to the front door his food, litter box and toys were packed and ready to go. He sadly entered the carrier.
"I'm sorry Boris," said Amanda. "I wish you could stay here."
So did Boris. He knew that God would provide another home, but he sure didn't want to leave.
Boris quietly sat in his carrier as they drove across town.
As Amanda carried Boris, he tried to see where they were going. But with the carrier shaking so much, he couldn't see. He really didn't care to see the shelter anyway. He wondered what the cats would be like. They had teased him before. Maybe this time they would be friendly.
He sniffed the air.
"That's strange," said Boris. "The shelter smells different."
Just then he heard a familiar voice.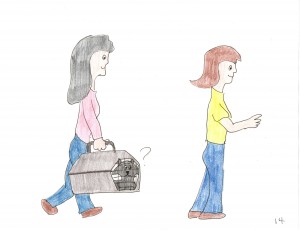 "Bring him on in," said Pam.
"Are you sure Chris doesn't mind?" asked Amanda.
"I insisted," said Pam. "I couldn't let Boris go back to that shelter."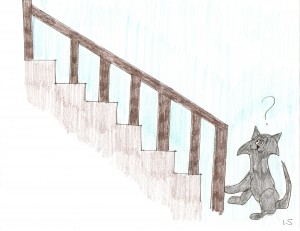 Amanda placed the carrier in the middle of the living room and opened the door. Boris peeked out.
"Come on out," said Pam. "This is your new home. You can live with us and see Amanda when she visits."
Boris looked around the house. This place was twice as big as the apartment.
He carefully explored the entire first floor from the kitchen to the living room.
"There are lots of places to hide," he thought.
He then saw the stairs. "I wonder what's up there?"
Tucking his ears back, he ran up the stairs as fast as he could. At the top, there was a windowsill that was ideal for napping.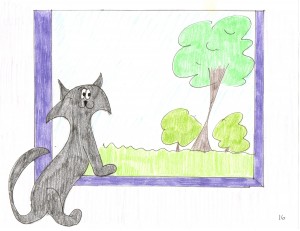 "This is perfect," he thought as he jumped up on the windowsill.
He looked out at the backyard.
"Wow, look at those trees," said Boris. "I'm going to have some fun out there."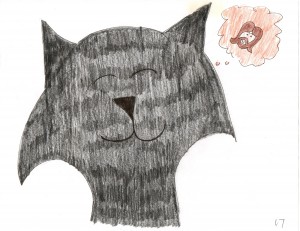 Boris stopped. There was something he had forgotten to do. He bowed his head and prayed, "Thank you God, this is the perfect home."
THE END
Search for Other Christian Web Sites.
© Harrison Woodard Illustrations © Donna Rosin All rights reserved. No reproduction or retransmission by any means allowed without the express written consent of the author and illustrator. See Legal Info for details.