The Best Christmas Gift

Story By
Harrison Woodard
Illustrations By
Donna Rosin
Every Christmas we celebrate the greatest gift ever given, Jesus, God's only Son. In his third children's story, Boris gets so caught up in all the holiday excitement that he forgets to get a Christmas gift for his parents. Noel, an angel, helps him understand that the best Christmas gift is always love. A very special Christmas story for kids of all ages.

For unto you is born this day in the city of David a Saviour, which is Christ the Lord. — Luke 2:11 KJV
Jesus said unto him, Thou shalt love the Lord thy God with all thy heart, and with all thy soul, and with all thy mind. This is the first and great commandment. And the second is like unto it, Thou shalt love thy neighbor as thyself. On these commandments hang all the law and the prophets. — Matthew 22:37-40 KJV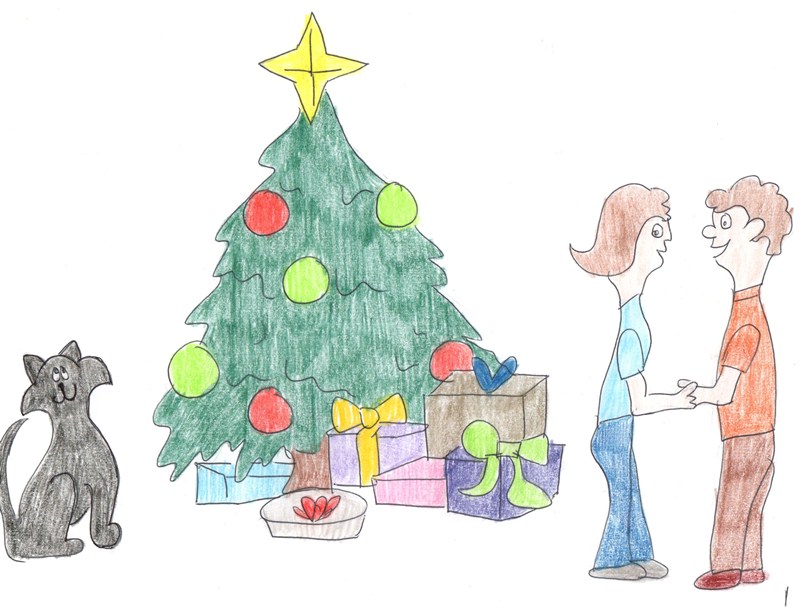 It was Christmas Eve in the Matney home. In the middle of the living room, there was a giant tree decorated with ornaments of all colors and shapes. Underneath, several presents were waiting for Christmas morning. Boris, the kitty of the house, sniffed his gifts.
"Boris, wait until Christmas morning," said Chris.
"He is so excited," said Pam. "It will be a long night for him."
"Well, we better get some rest, " said Chris. "Tomorrow will be a big day."
"Goodnight Boris," said Pam. "Don't stay up all night."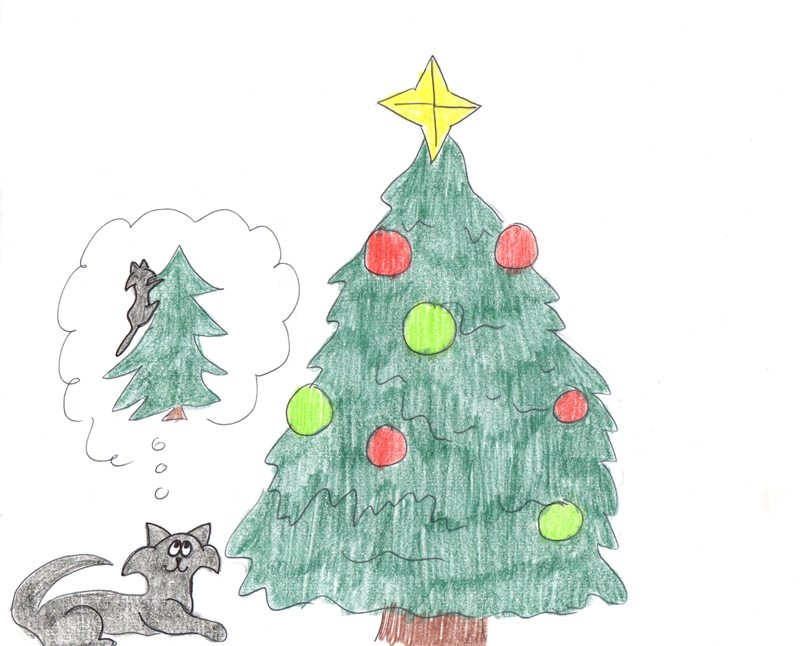 From his spot under the Christmas tree, Boris watched his parents climb the stairs. He wasn't ready for bed. He was too excited to sleep.
He looked up at the tree. When it first arrived, he climbed all the way to the top. That was before it was decorated, and his parents weren't home. He thought about climbing it again, but decided he better not.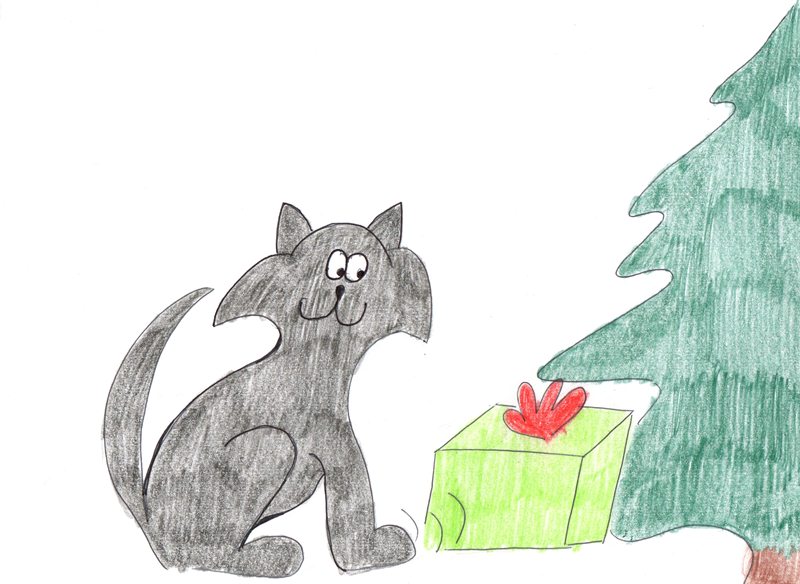 He pawed one of his presents. "I wonder what it is?"
There were several presents under the tree, but his seemed to be the very best.
Suddenly he exclaimed, "I didn't get anything for Mom and Dad!"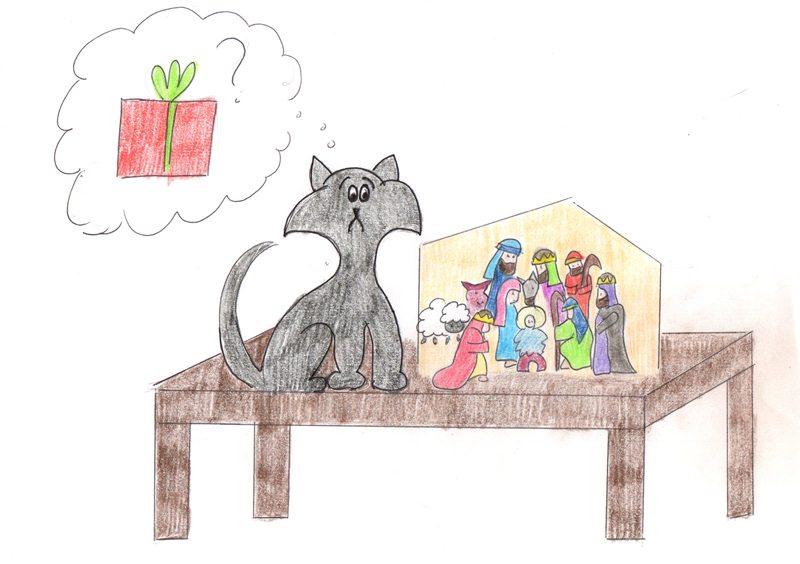 He jumped onto the coffee table and sat down next to the Nativity scene.
"I want to give them a gift, but what?"
He thought really hard, but couldn't think of anything.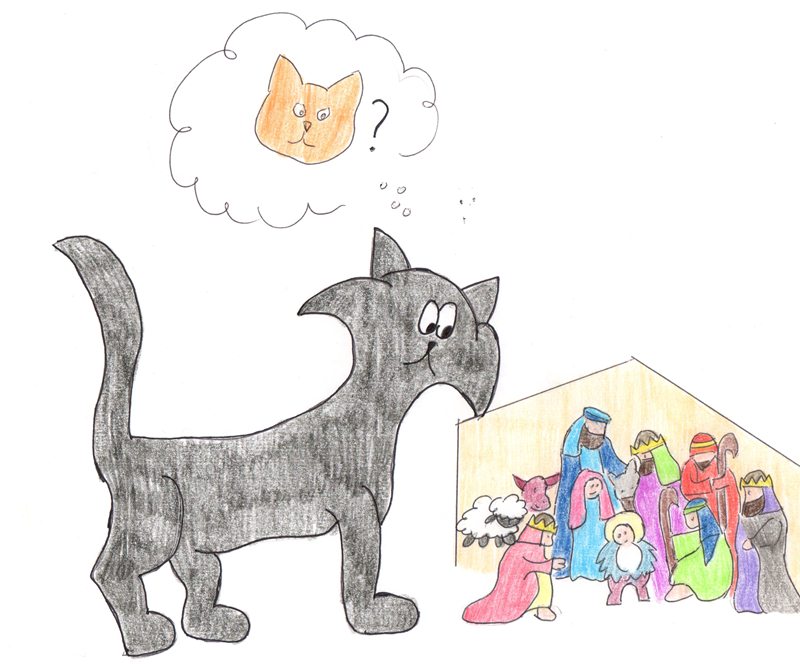 He looked down at the Nativity scene. There was Mary, Joseph, shepherds, baby Jesus, and all kinds of animals.
"I don't see a cat," said Boris as he stood up to take a closer look. "No, not a cat in sight."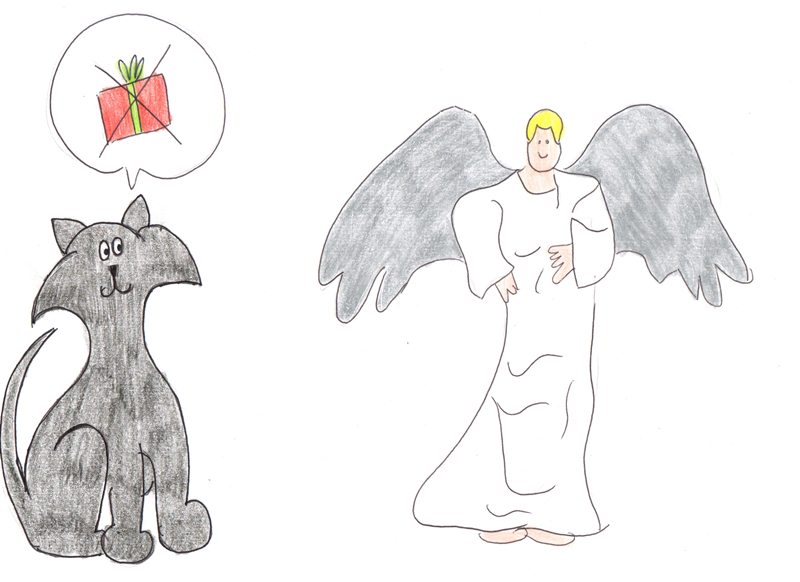 Suddenly, a beautiful Angel appeared.
"Who are you," asked a frightened Boris?
"Don't be afraid." said the Angel. "My name is Noel and I have come to help you."
"I don't have a Christmas gift for my parents," said Boris. "Can you help me find something to give?"
"Yes, I think I can," said Noel. "But first, I want to tell you a story about another cat who had the very same problem. His name was Gideon."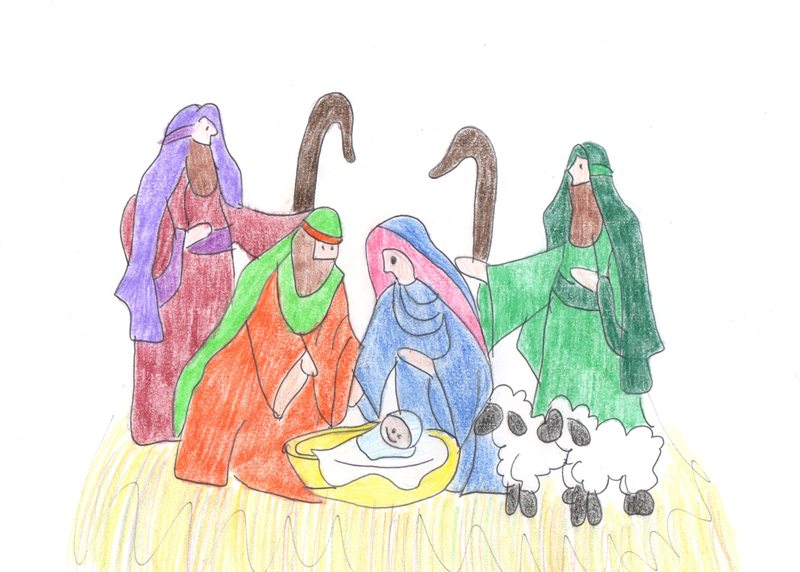 Gideon lived a long time ago in a city called Bethlehem. He lived with the other animals in a stable behind an inn.
One day a young couple was forced to spend the night in the stable. During the night, a very special baby was born. His name was Jesus, the Son of God.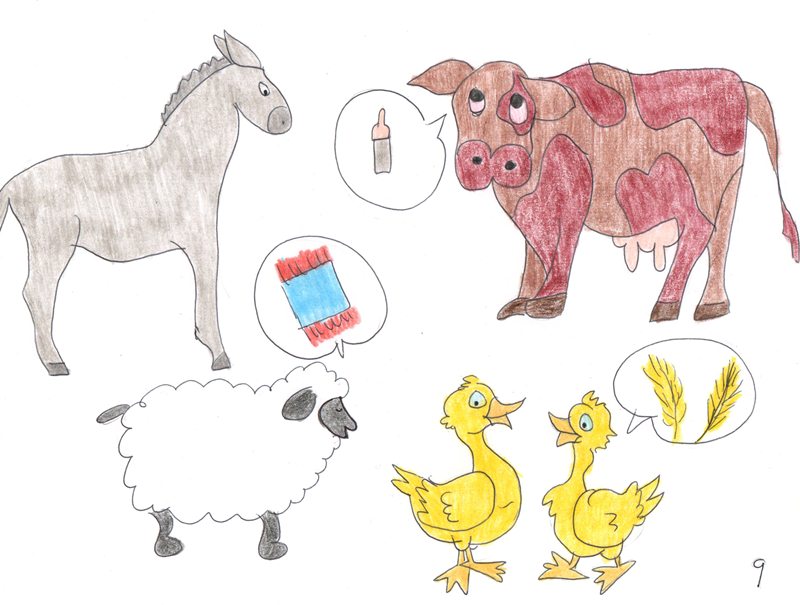 Kings and shepherds brought gifts for the new baby. All the animals gave gifts too. They started boasting to each other about their presents.
The donkey said, "I gave them a ride to the stable."
'We provided our wool for a blanket," said the sheep.
"I gave my milk," said the cow.
"We gave our feathers for a soft pillow," said the ducks.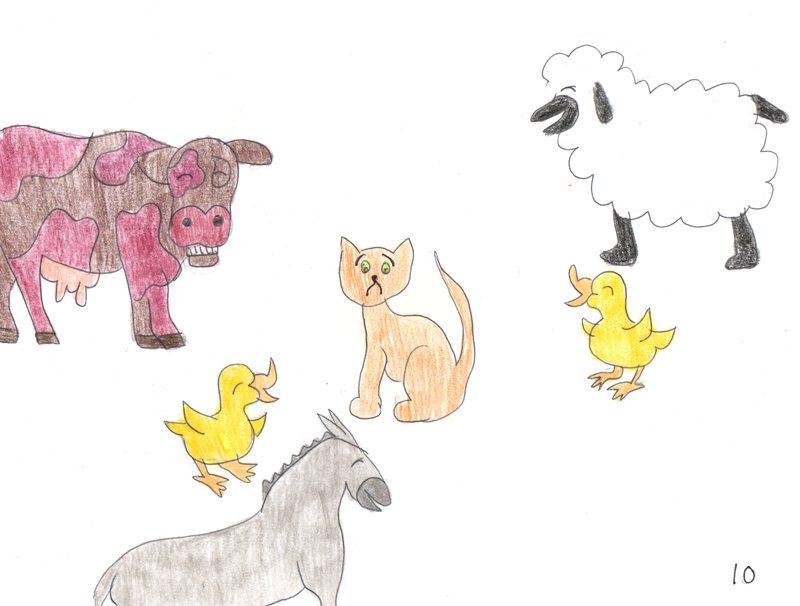 Then, the animals turned to Gideon.
"What did you give the baby?" asked the donkey.
"I don't have anything to give," said Gideon.
"Cats are useless," said the cow. "All they do is eat and sleep."
All the animals laughed because Gideon had nothing to give.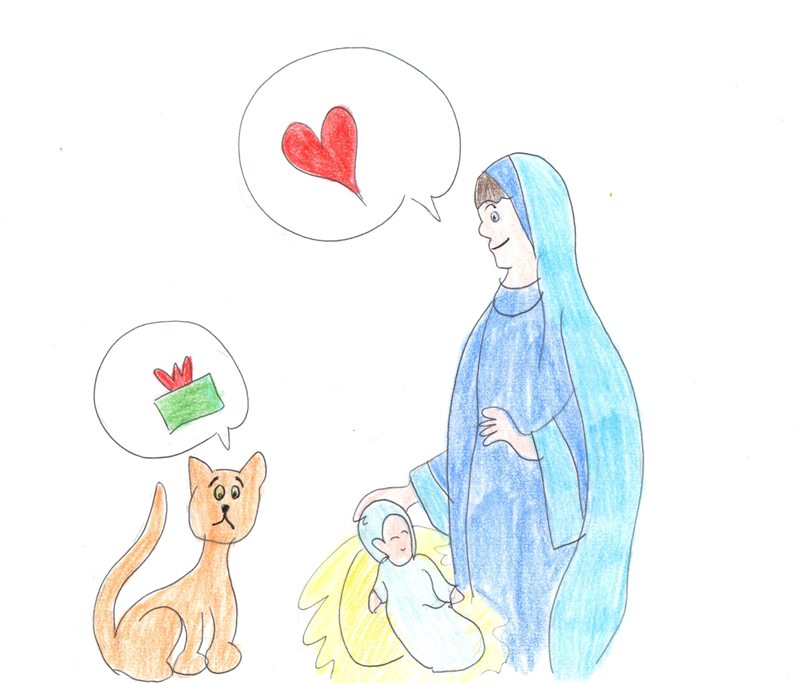 Gideon sat down next to Mary, Jesus' mother.
"I want to give Jesus a gift, but I have nothing to give," said Gideon.
"You have already given a wonderful present," said Mary.
"What?" asked Gideon.
"Your love," said Mary. "That is the best gift."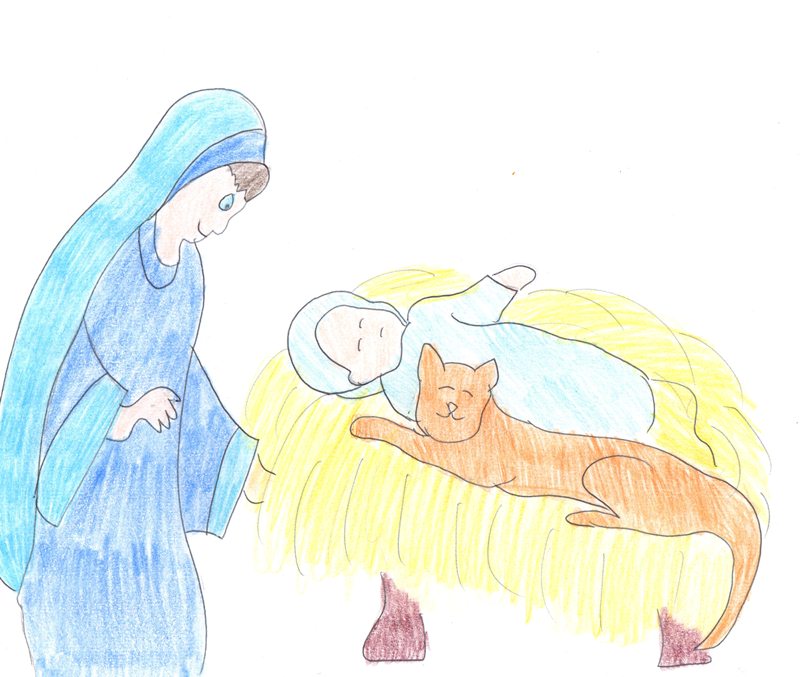 Mary looked at Jesus who was very restless and she had an idea.
"I know what you can give," said Mary.
She picked Gideon up and placed him in the crib next to Jesus.
"What should I do?" whispered Gideon.
"Just relax. You'll know what to do," said Mary.
Gideon gingerly lay down next to Jesus and began to purr. His warm fur and his gentle purring made Jesus sleep peacefully.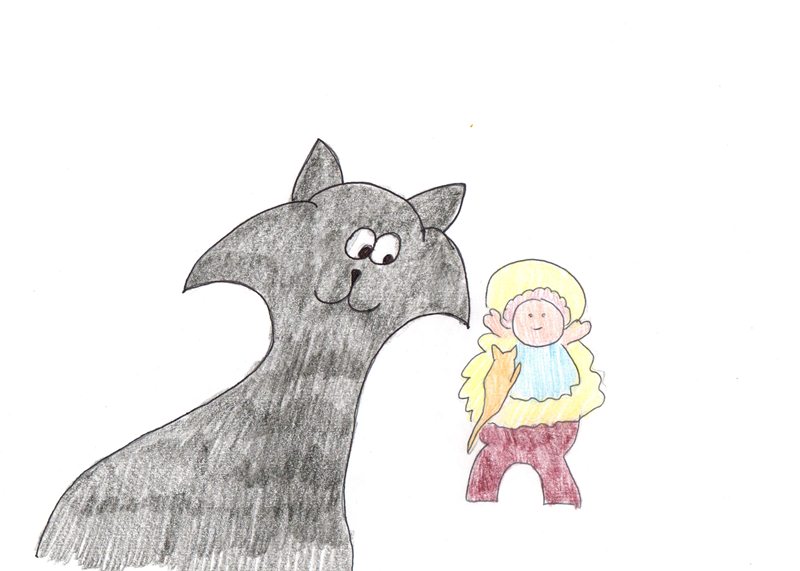 "Wow!" said Boris. "I know exactly what to do."
"Goodbye Boris, and Merry Christmas," said Noel as she disappeared.
Boris looked down at the Nativity scene. He wondered why Gideon wasn't there. But then, he saw Gideon, in the crib next to Jesus.
"Merry Christmas Gideon," said Boris.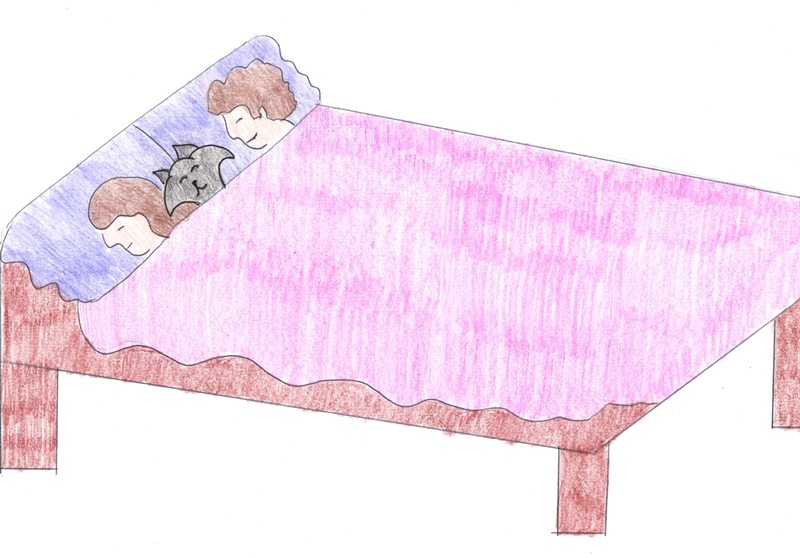 He ran upstairs and jumped in bed with his parents. He snuggled up between them and gave them the best Christmas gift he could give.
The End
Search for Other Christian Web Sites.
© Harrison Woodard Illustrations © Donna Rosin All rights reserved. No reproduction or retransmission by any means allowed without the express written consent of the author and illustrator. See Legal Info for details.